WEBINAR SERIES 2021: FAST, EFFICIENT & RELIABLE PROBLEM SOLUTION
Webinar 4: Chemical Substitution
The objective of this workshop is to give the participants a view on various aspects related to chemical substitution. As chemicals have become indispensable for modern society, so has the possibility for exposure to harmful chemicals increased significantly. Some of the numerous chemicals that are used in industrial processes, commodity products, consumer products and many more, may have undesired environmental, health and safety impacts. These chemicals need to be identified and substituted before they cause harm. Replacing harmful chemicals in products and/or processes with less harmful alternatives is the basis of green chemistry and inherently safer design of processes and the products that sustain the modern society. The challenges, and therefore, the opportunities for the process systems engineering community to develop state of the art methods and tools exist and hopefully the webinar 4 will motivate more people to join this fight. This webinar will have 3 lectures and a problem solution session with ChemSub, a special software for chemical substitution that is under development. Dr. Michael Overcash and Dr. Syeda Sultana Razia are the guest speakers.
The lectures of the webinar series are available in PSEforSPEED youtube channel. 
REMOTE CHEMICAL SECURITY TRAINING FOR CHEMISTS, ENGINEERS AND SAFETY PROFESSIONALS
The CPI Safety team of Department of chemical engineering conducted three days "Remote (online) chemical security training for chemists, engineers and safety professionals" on May 26-28, 2021. The training program is coordinated and supported by CRDF Global and U.S. Department of State's Chemical Security Program (CSP). Subject matter experts from academia and industry on chemical security vulnerabilities and best practices has presented the risk potential on improper chemical storage, chemical inventory management, security vulnerabilities, chemical security risk mitigation strategies, and transportation security. There was total 75 participants registered for this training program; 40+ participants from industry, 25+ participants from academia and 10+ participants from government organization and research institutes.
The inaugural session was attended by Ambassador Kryzysztof Paturej, President of the International Center for Chemical Safety and Security, and Prof. Abdul Jabbar Khan, the honorable Pro-Vice Chancellor of Bangladesh University of Engineering & Technology.  
INTERNATIONAL SYMPOSIUM ON CHEMICAL SAFETY AND SECURITY MANAGEMENT (ISCSSM 2020)

The Department and Bangladesh National Authority for Chemical Weapons Convention (BNACWC) jointly organized the International Symposium on Chemical Safety and Security Management (ISCSSM 2020) on 11-12 February, 2020 with the support of the Organization for the Prohibition of Chemical Weapons (OPCW) and Environmental Sustainability in Textile Industries program (ESTex)-BUET to bring together academics, professionals, international bodies, government authorities and industry to promote awareness and share advancements in the field of chemical safety and security, and loss prevention. More than 150 participants from various sectors including academia (BUET, JUST and SUST), regulatory authorities (DIFE, DoE), ministries (MoC, MoF) and industries (Chevron, KAFCO, Beximco Pharmaceuticals and many others) came together to share their knowledge and ideas.
WORKSHOP ON PETROLEUM PRODUCT SAFETY
The workshop on petroleum product safety was organized by the Department of Chemical Engineering, BUET with support from Bangladesh Energy Regulatory Commission (BERC) at BUET-ITN center Seminar Room, on Thursday, December 05, 2019. The main objective of the workshop is to inform the key stakeholders regarding the guidelines and audit protocol under preparation for Petroleum Product Safety for BERC Licensing. More than 50 participants from industries and regulatory authority attended the workshops.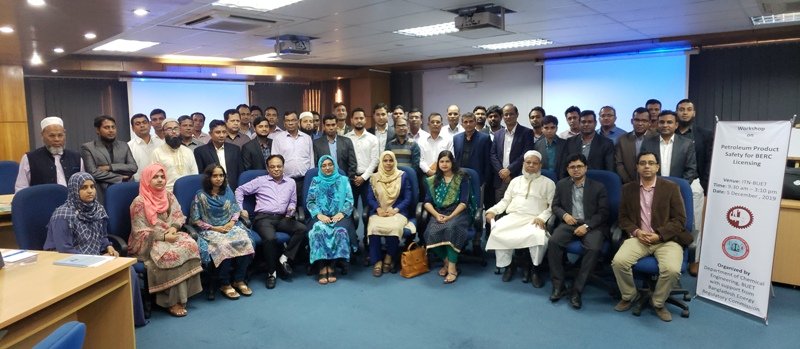 HIGH LEVEL CHEMICAL SECURITY WORKSHOP IN DHAKA
Department of State's Chemical Security Program (CSP), CRDF Global arranged two days "High Level Chemical Security Workshop for public and private stakeholder" on Feb 28-Mar 01, 2019 with the collaboration of BUET and Dhaka University. There were more than thirty (30) stakeholders from government, chemical industry, and academia to discuss strategies to improve chemical security management in Bangladesh. International subject matter experts on chemical security vulnerabilities and best practices had presented on proper chemical inventory management, chemical security risk mitigation strategies, and public-private collaboration. During the action plan exercise portion of the training, participants were split into five groups who were then asked to develop action plans revolving around the following five topics: Awareness Building, Organizational Cooperation, Database Management, Operational Standards, and Legal Frameworks.

USA Bangladesh workshop on chemical securityat Fourpoint by Sheraton, Dhaka, February 2019
Address:
Department of Chemical Engineering
Bangladesh University of Engineering and Technology (BUET)
Dhaka-1000, Bangladesh